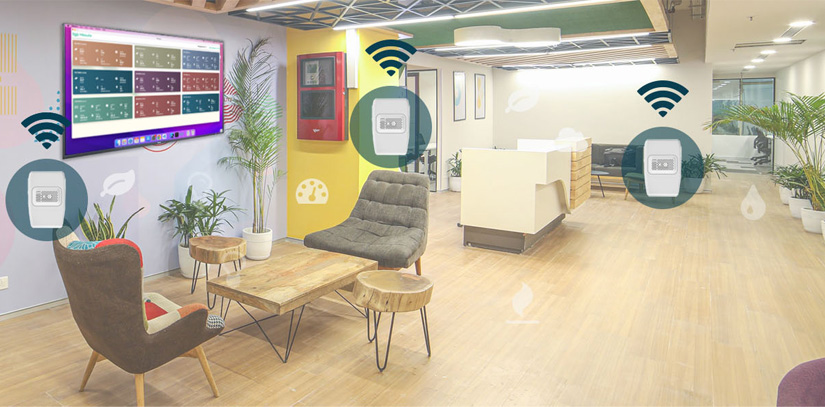 HibouAir Desktop Pro for monitoring air quality at office
It is necessary for human health that indoor air is of high quality. A large part of the active population spends their 8-hour workday in an office. Working in large spaces often means being with large groups of people who all share the air. People's health depends largely on the indoor environment where we work, live or carry out any type of activity for a long time.
The air pollution in an office may seem harmless compared to how it looks in some industries. And of course, the risk of serious occupational diseases as a result of chemicals and particles is less. Nevertheless, poor air quality in the office can make people tired, cause headaches and reduce work performance.
Airflow, air quality, temperature and humidity are factors that affect the performance of an employee in an office environment. There is also a connection between air circulation and sickness absence. In other words, a good indoor climate in office buildings is of great importance for productivity, comfort and, above all, people's well-being.
Use air quality monitor to improve air quality in office
When it comes to air quality in the office, how useful is an indoor air quality monitor and should you get one? Anyone looking at how to improve the air quality inside office buildings should definitely consider investing in an air quality monitor.
Why HibouAir for office?
HibouAir indoor air quality monitoring solution for the office helps to keep track of the air quality in real-time. It comes with a quick & easy set-up. No need for wifi, gateway or cloud connectivity. The device can store up to 7 days air quality data.
HibouAir's air quality monitoring Desktop Pro application gives users insight into their indoor air quality in real time. The dashboard provides an overview of all the devices on one screen. An employee can also use the mobile app to access data whenever they want. The device list can be managed from the settings. The value updates every thirty seconds. This information will help to reduce the risks of bad indoor air and improve employee productivity and performance.
The application is available for both Windows and MAC operating system.
HibouAir measures and monitors the air quality levels in an indoor environment where the user can follow the values ​​for CO2 or PM (PM1, PM2.5, PM10), Volatile organic compounds (VOCs), relative humidity and temperature.
Air quality monitoring solution for small office
5 CO2 Air quality sensor
1 USB dongle
Order Now