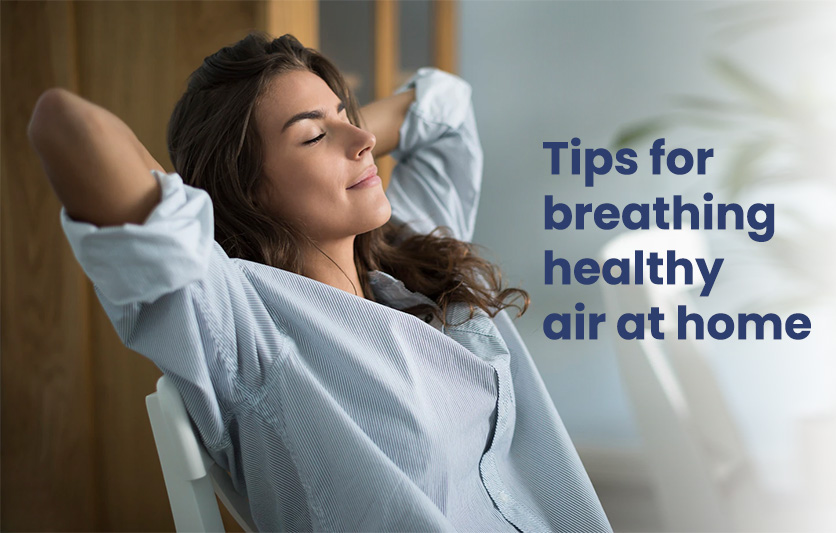 Tips for breathing healthy air at home
We spend between 80 and 90% of our time indoors, and yet the air inside is often more polluted than outside! It is therefore important to take steps that can preserve our health at home. Here are a few tips.
Several types of pollutants can be present in our homes and cause bothersome or harmful effects on our health. The quality of indoor air depends on the concentration of pollutants and the renewal of the air in the dwelling.
Sometimes odourless, colourless and in low concentrations but nevertheless present in our habitat, the most frequent pollutants are:
– Biological pollutants that come from living organisms (moulds, viruses, animals, etc.)
– Chemical pollutants such as volatile organic compounds ( VOC ), widely used in the manufacture of construction products but also in cleaning products and tobacco smoke
– Physical pollutants result from combustion, in particular from our boiler but also from human breathing.
What advice is to avoid emitting pollutants at home?
– Ventilate daily for 10 minutes in the morning and evening
– Open windows when doing household chores
– Keep the air inlets or extraction vents clean
– Do not turn off the ventilation system. It is indeed designed to operate continuously.
– Never block the air inlets (even in winter)
– Dust the air inlets located at the window level every month
– Maintain a humidity level between 40 and 60%, using an air quality monitor(a device that measures the humidity level)
– When cooking, put a lid on pans to reduce humidity
Air quality and the renovation of the building
When we carry out renovation work in our condominium, it is essential to integrate the indoor air quality aspect into the project. Indeed, if the apartment is well insulated, but the ventilation system is not adapted to the buildings after work, the stale air cannot be renewed. Insulation and ventilation must be systematically coupled in order to avoid humidity in the air and walls, mould, paint blistering, etc.
Purifying the air improves your daily comfort and your long-term health!
In the long term, the consequences of this unhealthy air can be very significant and can even seriously affect our health. Polluting air can not only cause many diseases such as asthma, cancer or other cardiovascular diseases, but it also plays a determining role in our daily comfort. The role of air is far from trivial since it can carry two things: allergens, colds and other viruses on the one hand, and gases such as CO2 or volatile organic compounds on the other. These elements strongly influence the human body, starting with the quality of sleep, among other things. Like the food we eat, the air we breathe plays a vital role in our well-being.
Thanks to indoor air quality monitoring devices, which makes it is possible to measure the levels of C02, VOCs or other pollutants (in ppm – particles per million) that are in our home. Thus, this allows us to know if the air in our home is too polluted, and therefore to ventilate accordingly to renew the air significantly.
Why HibouAir for monitoring air quality at home
HibouAir is a wireless air monitor that can track the air quality at home to help us breathe better easily and effortlessly. The best thing about HibouAir is that we are always informed about our surrounding environment in real-time. The monitor continuously analyzes the most important polluting elements such as CO2 or fine particles, volatile organic compounds (VOC), temperature, humidity, pressure, and noise and gives us the information in real time. Thanks to this revolutionary device, which helps improve the air inside our homes and above all understand how to avoid polluting it. 
A precise analysis of pollutants to ensure your well-being!
The HibouAir monitor is a very innovative device with an extraordinary ability to analyze its environment. It is indeed able to monitor the air quality of our interior, whether it is a house or an apartment! How? By simply measuring a number of parameters such as humidity, temperature, volatile organic compounds, CO2 or fine particles (PM1.0, PM2.5, PM10).
Air quality is visible in real-time and via the HibouAir mobile and desktop application!
The results can also be accessed via an extremely easy-to-use mobile application which allows us to see the details of each pollutant. Not only is the application easy to install, but it also translates complex data into a language that everyone can understand. The application highlights how pollutants evolve according to our daily activities!
But the application does not stop there! It also gives us a decision on how good the indoor environment is in terms of CO2 or fine particles.
Order Now