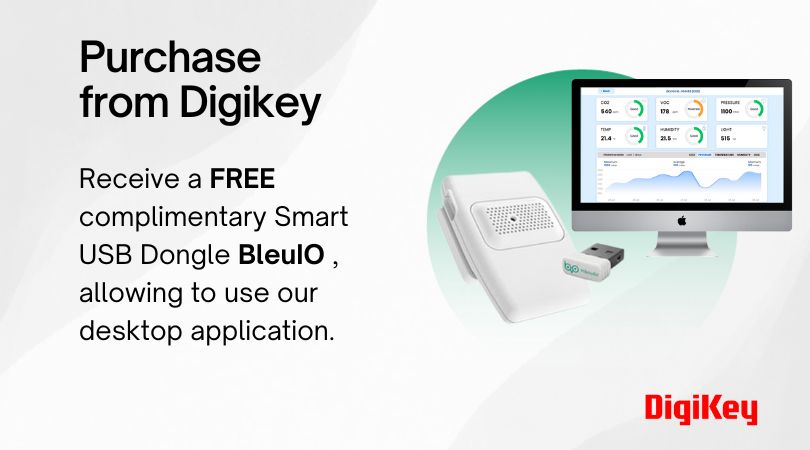 Indoor Air quality monitoring device, HibouAir is now available on Digi-Key
HibouAir, the plug and play air quality monitoring solution developed by Smart Sensor Devices, is now at your fingertips on Digi-Key, the premier online marketplace for electronic components and technology solutions.
There's more! When you make a purchase from Digi-Key, you'll receive a FREE complimentary Smart BLE USB dongle BleuIO. This unlocks an exclusive opportunity for you to use our desktop application.
The Smart Bluetooth Low Energy USB Dongle BlueIO designed to seamlessly integrate with the HibouAir desktop applications and deliver real-time air quality insights.
BleuIO acts as the bridge between the HibouAir desktop application and the HibouAir air quality monitor, enabling your computer to establish a wireless connection with the device. Once plugged into your computer's USB port, the application starts scanning for nearby HibouAir monitors within its range. This process is quick and automatic, ensuring that you can begin monitoring your indoor air quality without any hassle.

In addition to real-time monitoring, BleuIO enables you to access historical air quality data through the desktop application. The generous 7-day data storage capacity of the HibouAir monitor means that you can review past air quality trends and patterns. This historical data is invaluable for tracking long-term changes in your indoor environment and identifying potential issues that need attention.
"Through our distribution partnership with Digi-Key, we are making it easier for the maker community worldwide to quickly and reliably access our air quality monitoring solutions," said Axel Hammar, Founder & CEO of Smart Sensor Devices in Sweden AB.
About HibouAir:
HibouAir is an affordable indoor air quality monitor with a user-friendly setup that delivers real-time air quality data for your surroundings. This home air quality monitor not only provides data on the concentration of elements like CO2, PM, and volatile organic compounds (VOCs) but also offers insights into other vital parameters such as humidity, temperature, atmospheric pressure, and light levels, which collectively influence your ambient environment.
About Digi-Key Electronics:
Digi-Key Electronics, headquartered in Thief River Falls, Minn., USA, is a globally authorized, full-service distributor of electronic components. With a catalog of more than five million products, over 1.3 million items readily available for immediate shipment, and partnerships with over 650 renowned manufacturers, Digi-Key is your one-stop shop for electronic components. Their extensive online resources, including EDA and design tools, datasheets, reference designs, instructional articles and videos, multimedia libraries, and more, make them an invaluable resource for electronics enthusiasts. Plus, you can count on their 24/7 technical support via email, phone, and webchat. For a comprehensive look at their product offering, visit www.digikey.com.
Incorporating cutting-edge features, offering versatile applications, and delivering unparalleled performance, HibouAir is a true game-changer in the air quality monitoring field. Seize the moment and grab your very own HibouAir, available for purchase exclusively on Digi-Key.