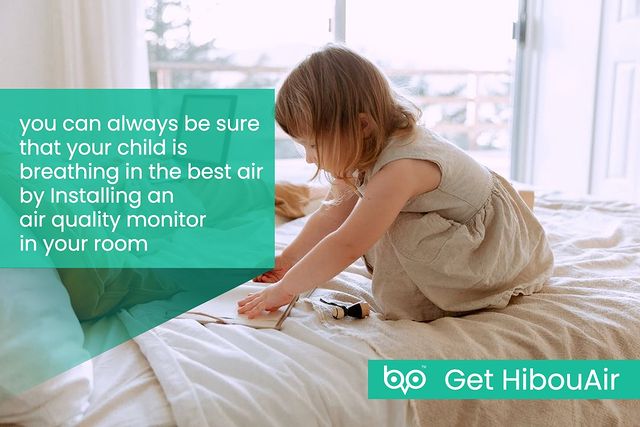 Why is indoor air quality monitoring important, especially for children?
The air quality at home can affect both adults and the child. However, children are extra sensitive to air pollution.
Clean air has been linked to children's health and well-being. Children are particularly susceptible to air pollution because their bodies and lungs are still developing. For example, you get asthma much easier as a child than as an adult. Then children are also a little more active, so they breathe more in comparison with body weight. This makes them absorb air pollutants much more easily than adults.
As a parent, the safety of children is a top priority. Most parents, on the other hand, do not realize the danger that risks their children's health every day because they don't have access to visible air quality data. Children come into contact with environmental pollutants in their rooms every day. Toys and other items make the child's bedroom a fun, safe space to play, learn and sleep. These items are likely to release toxic air pollutants into the room.
Indoor air pollution can be up to five times more severe than outdoors. They are there even though we can not always see or smell them.
Air pollution in the home can have many different health effects on children, including childhood asthma, allergies, poorer learning ability and a higher risk of early cancer and cardiovascular disease later in life. This is especially serious because studies show that high exposure to air pollutants early in life can have lifelong consequences for children's physical and mental development. Installing an air quality monitoring device at home will make sure that children are breathing in the best air.
Choose the best air quality monitoring device for kids
HibouAir is an affordable air quality monitoring device with a simple setup that helps you accurately measure indoor environmental data for observations and studies to preserve a healthy air quality environment. HibouAir comes with two different variations; particule and CO2 sensors.
There are several indoor air quality monitoring solutions provided by HibouAir:
Users can choose the best solution that meets their requirements.
HibouAir mobile and desktop applications work for any solution which provides real-time air quality data of nearby devices over Bluetooth. HibouAir Dashboard account is available for cloud solutions, which provides real-time data with various maps, charts and graphs for analysis. It can also generate alert notifications and periodically reports upon request.
With HibouAir, parents can feel calm in the knowledge that children can play happily, sleep well and stay healthy. 
Order Now